Tokyo. Busy stores, busy trains, busy streets, busy life. Yet, a very convenient city where you want to be. But let's be true to ourselves: working, studying and living in Tokyo can get very tiring. As the city is so crowded, there are just a few places where you can get an escape from everyday life. Living here for 5 years now, I am always looking for a place where I can relax, do not worry about time, and spend some time in peace. Recently, I found out that the easiest way to do so is to go to the outskirts of Tokyo.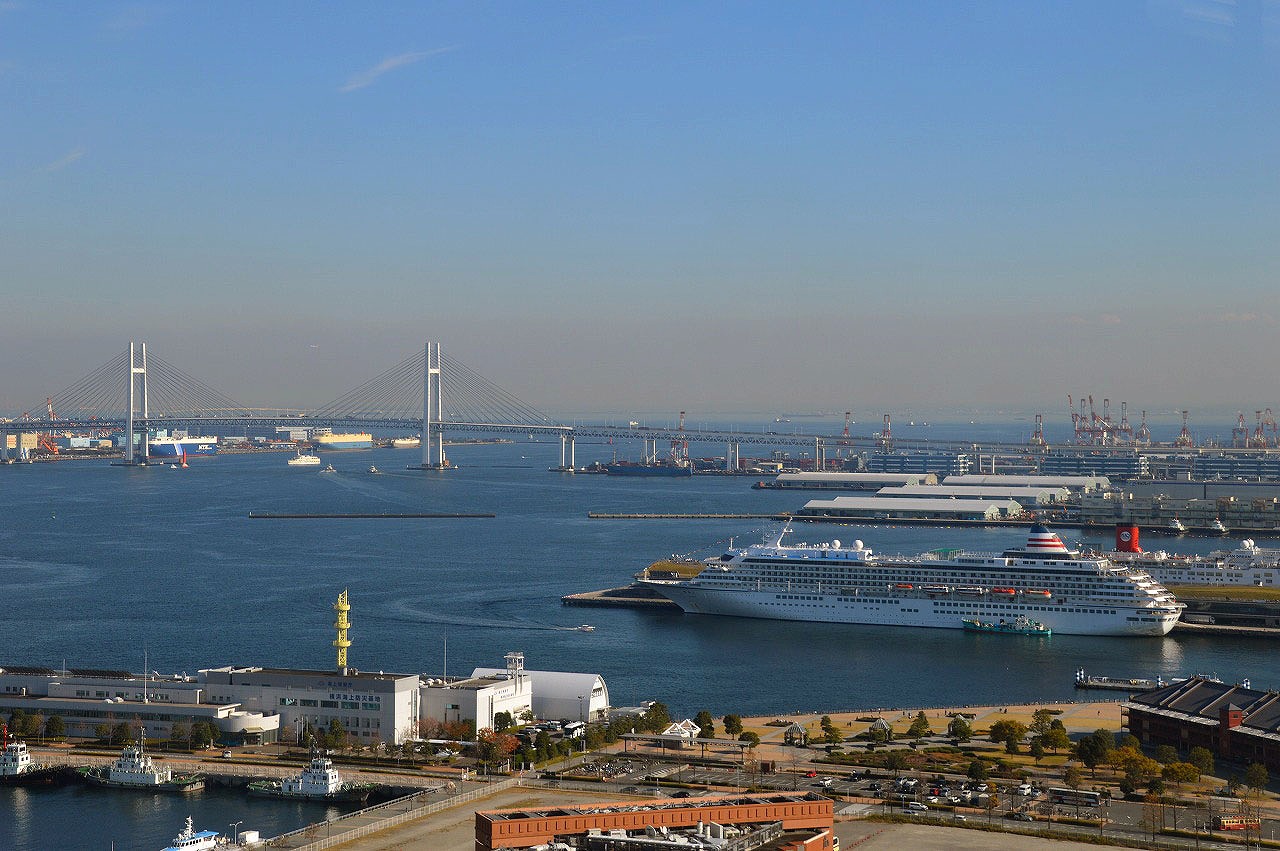 [Tokyo Outskirts] Yokohama: historically global
Yokohama was the scenery for the end of the Japanese seclusion policy. Around 1853, the American Commodore Matthew Perry arrived at Yokohama's port, successfully demanding that Japanese ports were open to commerce. This was the beginning of Yokohama as an international city.
In less than 200 years, Yokohama went from a fishing village to the second most populated city in Japan, losing only to Tokyo.
Currently, Yokohama is home to one of Japan International Cooperation Agency (JICA)'s Center. According to JICA's website "The center has several functions, including providing training programs. We receive approximately 700 participants from more than 90 countries every year." You can imagine how well prepared Yokohama is to welcome foreign residents 🙂
Many of you who have heard of or visited Yokohama know at least one of the following areas: Yamashita Park, Minato Mirai 21, Yokohama Chinatown, Yokohama Marine Tower… Unfortunately, there are some nice places in Yokohama not as famous as they should be: the residential areas.
One of the closest residential areas from Yokohama Station is Hiranuma Bashi. It takes only one minute by subway from here to Yokohama. Which is basically living in the heart of Yokohama. As you can imagine, this is a lively place to live. It is close to the sea. It is close to the buzzing stores. This is an area for those who are seeking for fun.
Of course there are also areas for those who want some silence and peace at home too!
Chilling in Idogaya and Gumyouji
Time goes by so slowly
Idogaya and Gumyouji are two stations on the Keikyuu Main Line. This train line connects Yokohama and its outskirts to Shinagawa (where you can change trains to famous lines in Tokyo, such as the Yamanote Line) and even to Haneda International Airport. You don't need to change trains if your flight is arriving in Haneda if you live close to the Keikyuu Main Line.
Time seems to have stopped in these stations. When I visited there on a weekday, what I could find were kids playing, mothers buying some ingredients for dinner, and students going back home from school. No businessmen or women were running to next appointment or to catch the next train, and no crowd was crossing the streets. I felt time went by slowly at Idogaya and Gumyouji.
We all want to live in a convenient area!
You may think there is not much in these areas as you picture their image. That's not true. Despite the feeling that I was on vacation in the countryside while there, Idogaya and Gumyouji are far from being inconvenient.
Close to Idogaya Station there are supermarkets, convenience stores, a police station, and one of our favorites stores in Japan: 100 yen Lawson – a hybrid between Lawson convenience store and a 100 yen shop. Also, Idogaya is home to some small parks and temples, which are leisure options without spending much.
Gumyouji Station is not only the home to what is said to be the oldest temple in Yokohama area – the Gumyouji Kannon (Goddess of Mercy) was build in 737, and it is an important cultural property. Close to the station there is a park, Gumyouji Park, where you can enjoy the four seasons of the year. You can have picnics there, take a walk and enjoy nature while being very close to the city. Another particularity of Gumyouji area: there are still plenty of public baths open. Public baths were very common in the past, when it was rare for houses have their own bathroom, but now they are becoming extinct. This station also takes you to a nostalgic shopping street. I was impressed to see a shopping street without many chain stores, something that has become rare in Tokyo nowadays. From clothing to Vietnamese food, whatever is on your shopping list you can find there. Last but not least, Gumyouji also has a police station close by.
(Japan is generally very safe, but I think police stations are a must when choosing where to live, especially if you are a girl.)
Hiranuma Bashi, Idogaya or Gumyouji? Nadeshiko House
(Sorry, guys, but again I am writing about a share house only for girls.)
Sharing a house and keeping your privacy
I was invited by my friend Yukako to visit Nadeshiko House as we are looking for nice share houses only for girls. We could visit two out of three Nadeshiko Houses: one in Idogaya and the other in Gumyouji, both of them quite close from the train and subway stations. They have recently gone under some extreme makeover, following the "renovation home" hype that is going on in Japan. Thanks to these renovations, the two Nadeshiko Houses we visited were very new and had a cute decoration. Also, the houses were redesigned in a way that private space overrules shared areas. Kitchen and bathroom are shared, but their sizes were kept to the minimum necessary.
While most share houses hold parties and events that are difficult to refuse to join, Nadeshiko House does not. If the members of the house want to have a party or any event, they are free to do so, as long as it does not disturb the other girls living there.
Unfortunately, we couldn't visit Nadeshiko House Hiranuma Bashi, but I heard it is close to three stations (Hiranuma Bashi Station, Tobe Station and Takashimachou Station), so probably the most convenient house (and close to downtown Yokohama, so not so many birds singing close to you)
Clean, clean, clean!!!
Oh, the share houses cleanliness. Always a polemic topic. What is clean for one may be dirty for another. Endless fights, friends that become enemies.
But not at Nadeshiko House! Once a week, the office that administrates the share houses send in a person to clean and tidy up the common areas.
I have never seen a share house as clean as these.
Of course, every one must do one's part: do the dishes after cooking, throwing the garbage out, not letting food spoil in the refrigerator…
But not having to clean the toilet is already a BIG help.
Thinking about girls
– Thinking how nice it would be if I lived here.
Nadeshiko is the name of a carnation-like, delicate purple flower. Yamato nadeshiko, an expression in Japanese, means the ideal of Japanese women in the past. Thus, "Nadeshiko" is often used as a word for women in Japan.
At Nadeshiko House, everything is designed for girls.
– There are two bicycles that can be rented for up to 4 hours a day, so one does not need to walk long distances, or walk alone at night.
– Who doesn't want to bring friends over? At Nadeshiko House, you can have (girl) friends sleeping over for up to three days. Just don't forget to contact the administration office in advance.
– No one opens the door to strangers
– Not only the main gate has a password for opening, but each room also is locked with a password.
– Morning bath is up to 10 minutes: everyone wants to take a morning shower, but let's cooperate so everyone can do so!
Ana's conclusion: finally a share house that feels like home
– Feeling at home already.
Living overseas itself can be stressful, and you want some peace at least in your room. Nadeshiko House offers share houses with good access, peaceful surroundings, some privacy, and cleanliness. Just as if you were home.
Gumyouji Nadeshiko House
・Rent:33,000yen~48,000yen
・Utility fee:12,000yen
・7 minutes on foot from Gumyoji station
Idogaya Nadeshiko House
・Rent:39,000yen~49,000yen
・Utility fee:12,000yen
・4 minutes on foot from Idogaya station
Hiranuma Bashi Nadeshiko House
・Rent:45,000yen〜49,000yen
・Utility fee:12,000yen
・10 minutes on foot from Yokohama station
Ana / Brazil